24/7 Emergency Service

Call us any time of the day or night for all aspects of termite and pest control.

Experienced & Friendly

We have over 30 years experience. Our competent staff know exactly how to solve your pest infestation.

Competitive Prices

We use safe chemicals effective techniques and fully qualified staff all at the right price.

Guaranteed Results

After 30+ years in the business, we have never failed to solve a single pest problem. 100% guaranteed

Cutting Edge Technology

We use Termatrac technology to detect termite movement. We don't risk guessing.

Free Consultation

Free Quotes. free advice 24/7 regarding any pest situation.

Enviro Friendly Products

Environmentally friendly products
Highly Reliable Specialists in Pest Control for Blue Mountains
In the Blue Mountains, you can experience fresh mountain air, breathtaking blue-hazed views, and an amazing scenery unlike any other. This comforting atmosphere is beautifully coupled with a welcoming community that offers a generally laid back atmosphere. There are also occasional special festivals and events and exhilarating outdoor activities just waiting for partakers to make the most of. This beautiful scenery and charming community is the ideal environment that most tourists and locals look and thrive for.
To preserve the captivating beauty of Blue Mountains, it's exceptionally important to keep the lovely image of the place untarnished and have its establishments in the best condition. To achieve this, an effective pest management solution should be considered—turn to Pioneer Pest Control.
Guaranteed Fast and Effective Pest Control
If you believe you have a pest problem that you need to discuss with a specialist in this business, call us immediately. From termites to timber destroying borers (there are many types and species), you can get all the answers you need with our help. If you've caught a sample of the insect you are worried about – whether it be spiders, fleas, bed bugs, cockroaches, ants, lawn grubs, springtails, bird mites, bird lice, mice, rats and more – you can drop it off at our office and we will slip it under the microscope and identify it for you at no charge. We specialise in giving our clients solutions and the best pest control treatments for all types of pests, at the right price.
Contact Us and Experience a Totally Pest-Free Environment
Pests can cause major problems for a business or a residence. They bring health and safety risks by causing unsanitary and damaging effects to the property. A beautiful home can easily become uninhabitable, and an inviting business can instantly be an objectionable place to be in when these critters invade your space.
For every home, office or shop it is highly important to maintain sanitary conditions in order to make sure they're continuously welcoming. This goes for every business and residence no matter where it may be located.
We can keep your community pest-free with fast and effective solutions. The areas we service include Springwood, Leura, Katoomba, Glenbrook, Blaxland, Warrimoo, Winmalee and Faulconbridge. We also provide termite inspection in Sydney and other surrounding areas.
Contact us today for effective commercial and home pest control plans and solutions.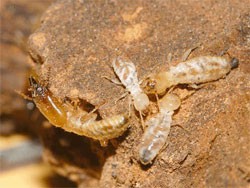 This home was purchased just two weeks prior to our radar detecting this sub-nest in the wall cavity.
This home was purchased just two weeks prior to our radar detecting this sub-nest in the wall cavity.