24/7 Emergency Service

Call us any time of the day or night for all aspects of termite and pest control.

Experienced & Friendly

We have over 30 years experience. Our competent staff know exactly how to solve your pest infestation.

Competitive Prices

We use safe chemicals effective techniques and fully qualified staff all at the right price.

Guaranteed Results

After 30+ years in the business, we have never failed to solve a single pest problem. 100% guaranteed

Cutting Edge Technology

We use Termatrac technology to detect termite movement. We don't risk guessing.

Free Consultation

Free Quotes. free advice 24/7 regarding any pest situation.

Enviro Friendly Products

Environmentally friendly products
Keep Pests at Bay with Pest Control in Parramatta
Historic and world heritage sites, beautiful parks and gardens, rich cultural diversity, and a bustling business and social scene – these are what locals and tourists can witness in Parramatta. With a vibrant arts and entertainment scene, the capital of Western Sydney is a huge business district that attracts a large influx of tourists, clients and customers. Because of this, businesses need to keep their shops in perfect condition. And this is why pest management in Parramatta is of extreme importance.
Tried and Tested Methods for Pest Control
At Pioneer Pest Control, we have specific treatments for cockroaches, spiders, ants, termites, wasps, carpet beetles, bird lice, bird mites, fleas, bed bugs, borers and silverfish. We have been in the industry for well over 30 years. Through these years we have proven to be experts in all aspects of pest management. We can eradicate any problem that may develop at your business or residence 24/7 with our emergency pest control service.
We offer the best pest management plans and solutions and have already completed work for a large number of customers in the Parramatta area, including Epping, Ermington, Granville, Guildford, Harris Park, Merrylands, Northmead, Oatlands, Toongabbie, Pendle Hill, Rosehill, Rydalmere, Winston Hills, Wentworthville and Westmead. We can eradicate all common pests and conduct termite inspections at your home or business anytime.
Dependable Inspection Services to Protect Your Business
To keep businesses properly maintained it's important to have an annual inspection of the building structure and most importantly to check for any termite infestation. This is the best preventative measure that can save you thousands of dollars in damage repairs.
For the protection of your business and your peace of mind, we provide annual termite inspection. Using the latest technology, we can precisely detect termites and other timber pests in your space. We also offer a range of options for termite protection when you are building or extending your office or home.
Contact us now for reliable termite inspection in Parramatta. We will help you protect your existing property from termite damage or treat an existing termite colony. We can protect your family, pets, business, and property investments by safely and effectively removing common pests through our integrated control or management solutions.
We also offer termite inspections in Sydney and pest control in Blue Mountains and other parts of Australia.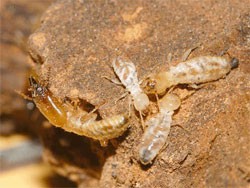 This home was purchased just two weeks prior to our radar detecting this sub-nest in the wall cavity.
The purchasers inspector did not use Termatrac Radar and missed them at the time of the Termite Inspection.