24/7 Emergency Service

Call us any time of the day or night for all aspects of termite and pest control.

Experienced & Friendly

We have over 30 years experience. Our competent staff know exactly how to solve your pest infestation.

Competitive Prices

We use safe chemicals effective techniques and fully qualified staff all at the right price.

Guaranteed Results

After 30+ years in the business, we have never failed to solve a single pest problem. 100% guaranteed

Cutting Edge Technology

We use Termatrac technology to detect termite movement. We don't risk guessing.

Free Consultation

Free Quotes. free advice 24/7 regarding any pest situation.

Enviro Friendly Products

Environmentally friendly products
The Leading Experts in Pest Control at Penrith
Home of the Panthers, Penrith is revered for its beautiful balance of rural and urban areas. While there is an abundance of lush greenery and picturesque views on one side, the other side shows a booming metropolitan city.
Situated in the rural side of the city, residents enjoy the warmth of the natural beauty surrounding them. While this is what every family dreams of, there is one downside to being in close contact with this type of environment. These homes are at risk of stray animals and rodents becoming pests in their homes. In the entire area of NSW, most of the homes at risk of infestation include the Penrith Nepean Valley, particularly in the built-up suburbs of Penrith where well-established gum trees surround homes and buildings.
As one of the best pest control companies in Australia, we can get rid of this problem for you. We can protect your Penrith property by safely and effectively removing common pests through our integrated management plans and solutions. With our effective pest management plans, you can fully enjoy the beautiful landscape that surrounds your residence.
Fast and Highly Reliable Pest Control in Penrith
We have more than 30 years of experience in pest eradication. In all these years we have never failed in providing successful pest management solutions to every home and business. This is because we make sure that we provide exceptional service every step of the way.
Upon initial check-up of the home's or business' condition, we use only reliable cutting-edge technology to accurately detect insects and rodents in the area.
We then use safe and effective treatments and methods that will efficiently get rid of these nefarious creatures, whether at home or at the office.
We also use environmentally-friendly products for our pest management program.
Trust Pioneer Pest for Quality, Effective Pest Control
With effective pest management in your property, you can truly enjoy the beauty of your home and have a security like no other for your business.
Contact us today to know more about our pest management solutions in Penrith or pest control in Parramatta and other locations in Australia.
Other areas that we service are: Agnes Banks, Berkshire Park, Castlereagh, Claremont Meadows, Cranebrook, Emu Plains, Glenmore Park, Jamisontown, Kemps Creek, Kingswood, Llandilo, Londonderry, Mulgoa, Orchard Hill, Oxley Park, St Clair, St Marys and Werrington.
Apart from this, we also offer thorough and reliable termite inspection in Sydney, Penrith and other parts of Australia.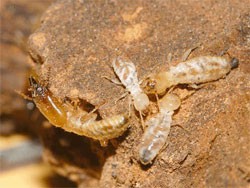 This home was purchased just two weeks prior to our radar detecting this sub-nest in the wall cavity.
The purchasers inspector did not use Termatrac Radar and missed them at the time of the Termite Inspection.